I confess I am an over-packer. It's a problem. And what do you do when faced with a problem? Turn to Facebook for help, of course. Luckily I have some very travel-savvy friends and thanks to them I have put together a list. Not just a regular list, mind you. A list of what I think are total game-changing packing ideas that are going to actually make you look forward to packing for your next trip.
Here are my favorite packing tips
It all starts with an app: PackPoint. It is a travel packing list app that is pure genius. You enter where you are going, when you are going, how long you'll be gone and what you'll be doing (hiking, sightseeing, beach, etc.) and it generates a custom packing list for you. No more forgotten items and no more driving away from home worrying, "What did I forget?"
Roll your clothes. This saves a ton of space and eliminates wrinkles. Oh, and the Navy does this, so if anyone is an expert at packing for small spaces I'd say to trust the Navy.
Use packing cubes. I had never heard of these so of course, I Googled. And then I immediately ordered some. These are so smart and really inexpensive. A must-have item to keep your clothes organized. Bonus, you can separate the clean and dirty clothes.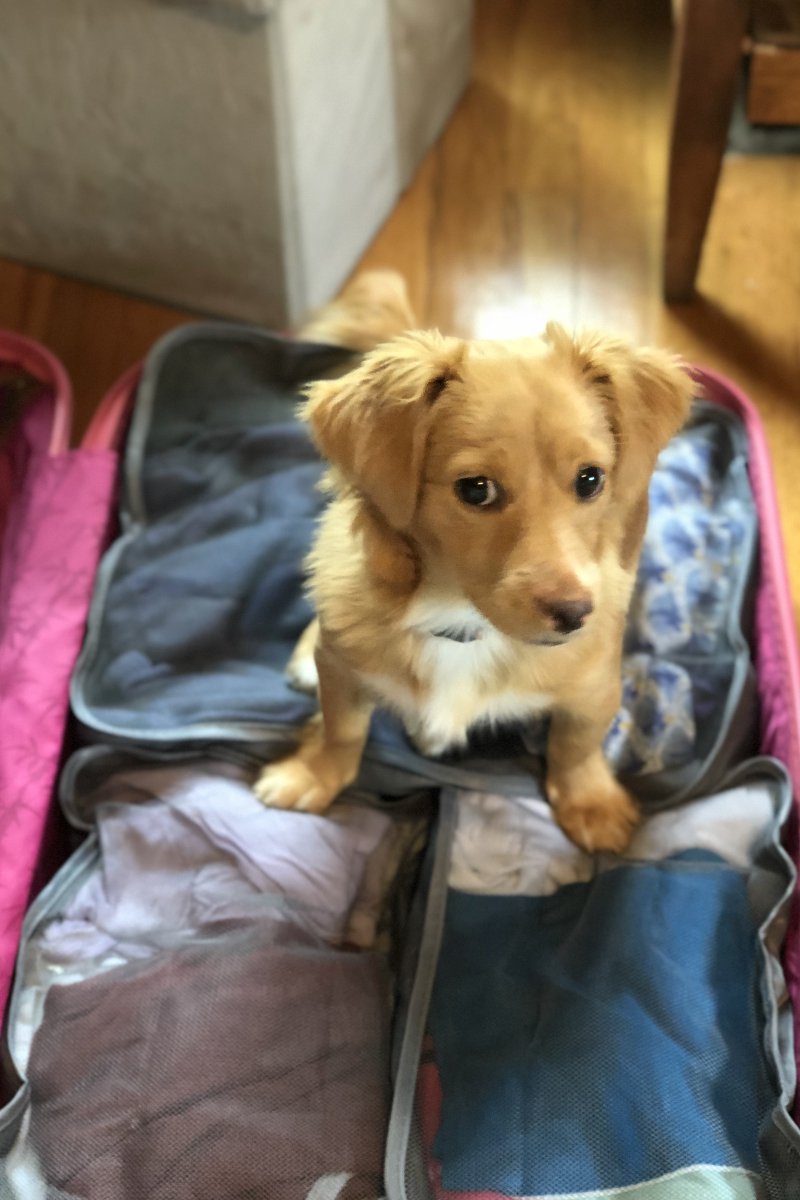 Hint: Packing cubes are also helpful when pets want to play in your suitcase.
Plan outfits for your kids and put them in large baggies labeled for each child. You can even go as far as to label by day. This makes packing easy, but also saves a lot of time when you arrive, allowing your kids to get dressed easily by themselves. (Or if you have a spouse who doesn't always know how to match outfits. Yup, I said it.)
Keep all the chargers for your electronics in one pouch. I never knew just how many electronics chargers would be involved when traveling with my family. This way you know where they are and can keep it all (a bit) under control.
Don't forget activities to keep the kids entertained. As much as they would enjoy hours spent on a device, most of us don't want that for our kids. Plan a busy bag swap with other mom friends. Another great idea is free printables or a Summer Bridge Activities from Carson-Dellosa. Summer slide is a real thing and hours in the car or on an airplane are the perfect chance for activities like these.
Alright. I have saved the best packing tips for last because these deserve a little more recognition. These are true Pro Packing Tips for Families.
Pro tip #1
Use Amazon Prime to ship items directly to your location. Think beach toys, toiletries, non-perishable food items, water bottles, etc, that don't pack well and you'd be buying anyway. Imagine NOT having to pack those big bulky items or those toiletry items you fear will explode and ruin everything inside your bag. Plus it could save you a trip to find a store!
Pro tip #2
Pack a toaster oven for a hotel stay. Most hotel rooms have a mini fridge and a microwave, but cooking is very limited and eating out is expensive. Pack a toaster so you can make easy meals like frozen waffles, toast, and bagels and save money so you don't have to eat out for every meal.
You will undoubtedly impress all of your family and friends now that you have this arsenal of packing tips up your sleeve. Happy family-travels this summer!