I have a feeling we are going to be drinking a lot of juice this summer. That's right, the juice shaming ends here. Years ago, I had cut down on the amount of juice my family was drinking due to its sugar content. We would only purchase juice for special occasions or pouches for lunch boxes. Now that I've found Mott's Sensibles™ my family will be drinking more juice without any sugary guilts!
Mott's Sensibles is 100% juice with 30% less sugar than your average apple juice. I was intrigued to learn that they achieve their lower sugar content by making it with coconut water and vegetable juice. I thought maybe the juice would taste different or perhaps it would be lightly flavored but after a taste test, I realized I was wrong. Mott's Sensibles has achieved 30% less sugar without compromising the flavor, at all.
In fact, the flavor is incredible. Mott's Sensibles comes in 3 flavors that are available in 64 oz.. The Apple Pineapple flavor is sure to be a summer favorite with its refreshing tropical fruit flavor. Apple Cranberry is delicious – I am not a fan of cranberry juice alone but this flavor combination surprised me and I like it. Apple Raspberry is amazing and is our family's favorite flavor. Head to your local Target to try it. Target also carries an exclusive line of Mott' Sensibles in a 6 pack of 8-ounce bottles in Apple Raspberry for on-the-go! You can also save 20% with Cartwheel in the Target app 5/6-5/19!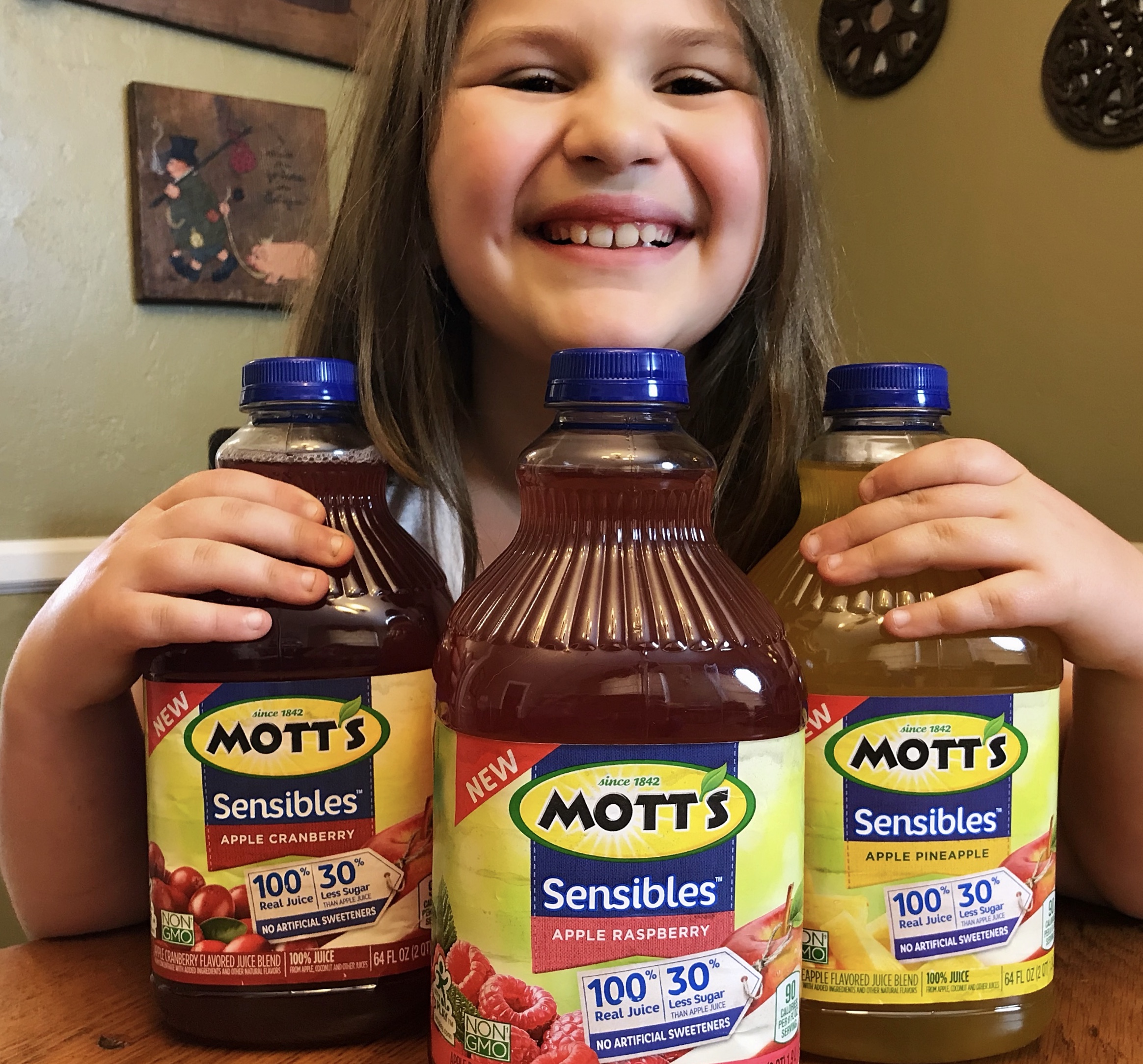 Mott's Sensibles is a brand I trust and I love their sugar-lowering, juice-innovating spirit – it's like they knew exactly what parents were looking for. Not only is the sugar content 30% lower there is also no artificial flavors or colors. Plus, the most important thing is Mott's Sensibles has NO artificial sweeteners. It's just 100% delicious juice.
If you're looking to sweeten up your summer then check out Mott's Sensibles with 100% juice and 30% less sugar. I purchase my Mott's Sensibles at Target and they are available at most major grocers. You can save 20% on Mott's Sensibles with Cartwheel in the Target app from 5/6-5/19! If you would like to get more information on Mott's Sensibles please click here.
Sponsored by Mott'sⓇ, however, all thoughts and opinions are my own.